FREE Muscle Building Program
Gain Muscle, Burn Fat
And Increase Strength!
Enter your first name and a valid email address
for free instant access to these muscle building workouts.

Build Your Own Home Gym Equipment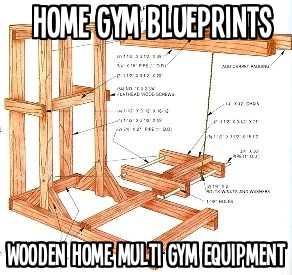 With the cost of a gym membership now up to hundreds of dollars a year, it makes so much sense to workout at home. Putting a home gym in a spare room, garage, basement or even your backyard is a great way to keep in shape and save money.
But the next problem you will face is the high cost of home gym equipment. For example, I wanted to get a simple calf block for my home gym and when I searched online I found the prices ranged from $70 to $200. That's insane! So I decided to make one myself, all I needed was one 2 x 4, a few screws and some non-slip safety strips. Total cost about $6, plus I had fun making it.
Here is a picture of my homemade calf block, it's super sturdy and works great.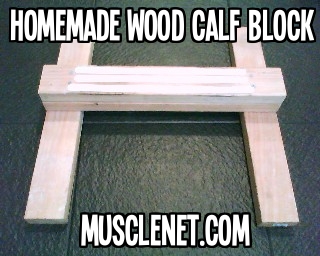 So next I started building more home gym equipment of out of wood and ended up designing the best home gym blueprints ever!

Now you can too build your own home gym equipment out of wood with these simple homemade gym equipment plans. You'll avoid spending several hundred bucks when you build this Wooden Multiple Station Home Gym.

The simple designs help you to create homemade gym equipment out of ordinary, easily found supplies. This guide covers everything that you have to have. These supplies may be bought from any home construction resource retailer and also lumber retailer. Absolutely zero welding is needed.

The multiple station home gym simple yet in-depth designs will let you do nearly any exercise such as:
Barbell Squats!

Bench Presses!

Incline Bench Presses!

Lat Machine Pull Downs!

Chin Ups!

T-Bar Rowing!

Cable Rowing!

Triceps Push Downs!

Biceps Cable Curls!

Standing Calf Raises!

Cable Cross Overs for Chest!

Hanging Leg Raises!

Plus a Ton of Other Exercises!
And the integrated security rods will allow you to train alone without needing a spotter.
Only the most basic carpentry equipment is needed to construct your new home gym. These completely thorough designs come with instructions as well as pictures. Building it will be simple as well as fast . . . zero specialized expertise is needed!
Why wait? You can download the plans right now!
You'll get the plans in the form of PDF e-book, so there isn't any postage fee added, due to the fact that it's downloaded immediately upon ordering! At that point you'd be able to print it out if you want a paper copy too. You can get the complete homemade gym equipment plans for the amazingly low price of only fifteen bucks!
Home Gym Blueprints Only $15.00
Once you've clicked the icon to initiate purchase on the purchase page, you'll see the authorization page appear and can press the button saying "click this to proceed" which takes you to a web page where the plans can be downloaded from. It'll take just few moments, after which you can begin saving hundreds of dollars by building your own home gym equipment!


Disclaimer: This information is for entertainment purposes only. We strongly recommend that you consult a physician before beginning any exercise program. MuscleNet.com is not a licensed medical care provider. The reader should understand that participating in any exercise program can result in physical injury and agrees to do so at his own risk. The findings and opinions of authors expressed herein are those of the author and do not necessarily state or reflect those of MuscleNet.com.